2013 Centennial Celebration
Over the weekend of October 18–20, 2013, nearly 300 alumni and undergraduate brothers and guests celebrated the one hundredth anniversary of the installation of Lambda Chi Alpha at Cornell University, and the kickoff for the Campaign for Omicron Zeta.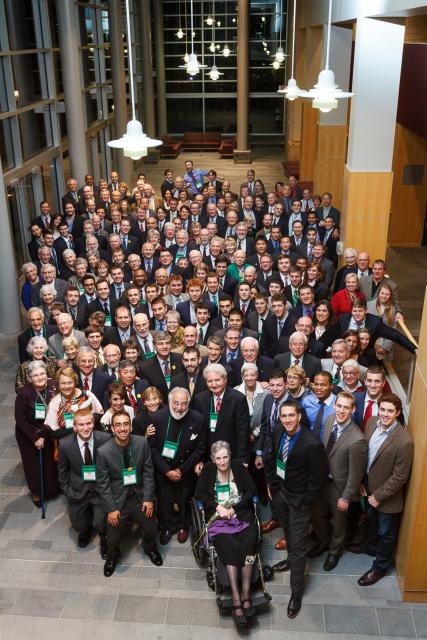 The breakfast session focused on the current state of the chapter (Ari Rubin '15), the progress of the capital campaign (Sandy Gilbert '63, Doug Levens '92, and Greg McElroy), and the proposed renovation plans prepared by Philip B. Prigmore '69. The evening banquet sessions took the larger view, reflecting on the successes of the chapter in the last century, and what is needed to continue its success into the future. ISWZA President Mike Filiatrault '95 emceed, and Bob McKinless '48 led the singing of the alma mater.
Photos
Photographs from the event, including group and decade photos and candids, are available from the official photographer, Chris Kitchen Photography.
Participants were treated to a display of old photographs, programs, paddles, and other memorabilia organized by Bro. Jim Quest '56, including numerous items from the collections of C.F. Harris '38 and Bob McKinless '48. These and other contributed photographs are also being added to Omicron's growing Flickr archive.
Presentations
| | |
| --- | --- |
| | "Places like Lambda Chi Alpha that have been here for a hundred years— they needed to be here forever…. I hope that every chapter at Cornell will do what this chapter has done. You remind yourselves of your founding values." |
| | "More important than the number of years, are the decades of lifetime friendships that have been formed, the witness to the growth of young men into accomplished leaders, and the engagement of the brotherhood with all aspects of the university." |
| | "The Fraternity is nothing more than an idea. It's that chapter, it's those brothers, it's those guys that you're sitting next to right now, that put that idea into motion.… It's because of that brotherhood, and because of those values that were instilled in our Initiation Ritual, they have led you to become better men." |
| | "We are over $1.2 million raised in this Capital Campaign. A campaign like this doesn't just happen by hiring a guy like myself… the success of a campaign is manifest through strong leadership, and we've been blessed with that here at Omicron Zeta." |
| | "Brotherly love: a simple phrase by which to govern every thought, word, and deed. Matt did not just live this way, he exuded this love, and it was contagious, inspiring others to make the most of every minute together." |
| | "All of you were his brothers, which makes you our brothers too.… Now we have this memorial fund that will bear his name, including the Omans family name, further cementing these bonds we have built on our shared and unforgettable memories of this most awesome brother of ours." |
Recognitions
At the banquet, Steve Ashley '62 presented Ralph Wilhelm '67 with a plaque in recognition of his contributions to Lambda Chi Alpha and to the fraternity and sorority system at Cornell.
Among lighter recognitions, Stan Leong '90 was found to have traveled the farthest distance to attend, flying in from Taipei, Taiwan. The largest century club in attendance was the '12s, with Bob McKinless '48 O-612 leading the pack, followed by Tom Bruno '90 O-1412, Jason Cho '98 O-1512, John Zelenka '03 O-1612, Max Shapnik '09 O-1712, and Kevin Ross '15 O-1812.
The longest direct lineage in attendance was that of Simon Franceschi '92, Brett Ainsworth '92, Andy Rosenberg '93, and Frank Goppel '95; their extended lineage in attendance included Greg Knight '96, Mike Filiatrault '95, Kevin O'Connor '98, Brad Husted '99, Ben Kuhn '00, Alaric Eby '10, J-M Grant '12, Gabe Mahan '13, Andrew Lui '14, Jon Schedlebauer '15, and James Asselin '16.
Downloads
Acknowledgements
The success of the weekend we owe to all of our members, sweethearts, guests, and honored VIPs who participated, and the months of preparation and hard work of our alumni and undergraduate volunteers, of Jennifer Lawrence Birnbaum and countless staff at Ceremonies and Event Planning of the Finger Lakes, the Statler Hotel, Dr. Konstantin Frank Vinifera Wine Cellars, The Hot Truck, and Chris Kitchen Photography.
Centennial Celebration Committee
Mike Agostin '92
Centennial Committee Chairman
Brian Barnes '14
Eric Baum '15
House Manager
Peter Caldwell '14
Jason Cho '98
Matt Clardy '14
High Alpha
Dan DeFlumeri '15
High Rho
Mike Filiatrault '95
Alumni President
Sandy Gilbert '63
Frank Goppel '95
Michael Hassman '15
Greg McElroy
Bob McKinless '48
Etienne Merle
Randy Rosenberg '74
Jim Quest '56
Bill Smith '10
Ralph Wilhelm '67
Joe Willis '72
Jamie Winebrake '15
John Zelenka '03